Our Interpretation of the Cahokia site focuses on its uniqueness as an urban center, or a city. It is the largest prehistoric Indian city north of Mexico and was a religious, political, economic and cultural center.
To achieve an understanding of this site we do the following:
Examine the factors which qualify Cahokia as a city or urban center.
Discuss the tradition known as Mississippian, of which Cahokia was a part.
Explain the archaeological and anthropological research, analyses, and processes that reveal this information to us.
Disseminate this information to the general public to educate and inform through our Interpretive Center exhibits, educational programs, special events, educational literature and other interpretive activities.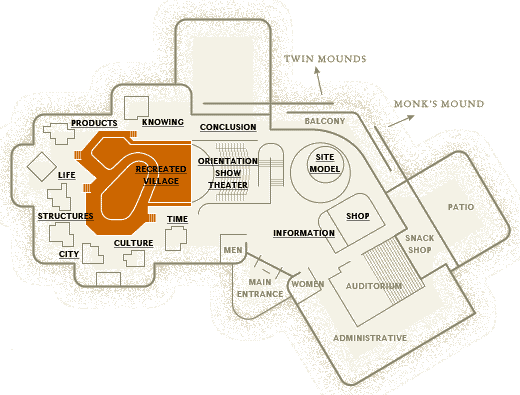 Interpretive Center Information
The Interpretive Center Gallery is self-guided. Volunteers are available to answer visitor questions.
Closed
New Year's Day, Martin Luther King, Jr. Day, Lincoln's Birthday, Presidents Day, General Election Day, Veterans Day, Thanksgiving and Christmas Day (Open Easter, Memorial Day, Independence Day, and Labor Day).
Admission
There is no admission fee, but the suggested donation is $7.00 for adults, $5.00 for seniors, $2.00 for children, and $15.00 for families.
How to Schedule the Orientation Theater & Exhibit Gallery
Field Trips & Group Visits: Reservations are required for all groups. A two-week notice is needed. Groups are limited to 70; larger groups will need to be divided if you are scheduling to see the orientation show City of the Sun.
To schedule a group please complete a Group Reservation Form or call (618) 257-3441 to have a form faxed or mailed to you.
Unscheduled Groups will have to wait until there is an opening to accommodate them in the Theater and exhibit Gallery.