BACK TO THE CITY OF THE SUN
An Augmented Reality Project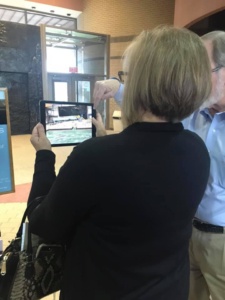 Cahokia Mounds Museum Society (CMMS), the support group of the Cahokia Mounds State Historic Site, is a recipient of a $100,000 Digital Projects for the Public grant from the National Endowment of the Humanities (NEH). The grant will be used to develop a functional prototype of an Augmented Reality application that can be viewed on smart phones and tablets from the top of the 10-story Monks Mound.
The project will enable visitors to "see" structures – once visible in the pre-Columbian city – superimposed on the present landscape. To activate the AR components, a hand held device is used to scan visual markers placed in strategic spots around the historic site. The technology calculates the orientation of a marker to position and stabilize 3D models upon the real world environment. Two of the first Monks Mound initiatives are a reconstructed panoramic view of the entire Ceremonial Center and a sacred temple displayed approximately 50 feet from the viewer.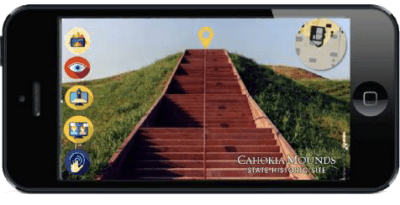 On screen icons will provide access to multiple media components with each AR experience. These include informational videos, interviews with experts, as well as 3D images of artifacts found at specific locations. A new educational website will provide additional information and resources.
Schwartz & Associates Creative (SAC), St. Louis, has been collaborating with the CMMS to find ways to use new technologies to transform the outdoor learning experience. The company has produced a number of technology products for the CMMS, two of which won MUSE awards at the American Alliance of Museum's Annual Conference in 2009 and 2012.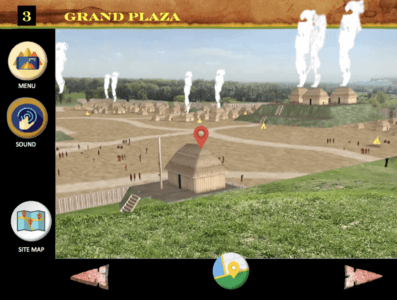 Once the prototype is completed, the CMMS is eligible or a $300,000 NEH Production grant that will be used to add augmented reality stops throughout the historic site. It is expected that all components will ready for release by the end of 2021.
Augmented Reality Project View: