EXPLORE CAHOKIA MOUNDS
Interactive Map of Cahokia Mounds
One of the greatest cities of the world, Cahokia was larger than London was in AD 1250. Learn more about this city by exploring our interactive map.
Where is Cahokia Mounds?
Cahokia Mounds is located in Collinsville, Illinois off Interstates 55/70 and 255. Cahokia Mounds is just fifteen minutes east of St. Louis, Missouri.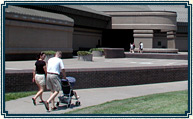 Plan your Visit
Our Interpretation of the Cahokia site focuses on its uniqueness as an urban center, or a city.