EXPLORE CAHOKIA MOUNDS
Interactive Map of Cahokia Mounds
One of the greatest cities of the world, Cahokia was larger than London was in AD 1250. Learn more about this city by exploring our interactive map.
Where is Cahokia Mounds?
Cahokia Mounds is located in Collinsville, Illinois off Interstates 55/70 and 255. Cahokia Mounds is just fifteen minutes east of St. Louis, Missouri.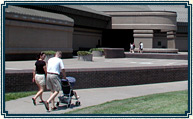 Plan your Visit
Our Interpretation of the Cahokia site focuses on its uniqueness as an urban center, or a city.
Events at Cahokia
May
25
Nature/ Culture Hike
3-mile hike through archaeological & natural areas of the site. 9:30am - 1:00pm. Free.
Jun
2
Lecture: Purple Martins
Learn about purple martins at Cahokia Mounds from 1 - 2 p.m. Sunday, June 2. Free. Area volunteers with the Purple Martin Conservation Association, John Miller of St. Louis and Dennis Doetsch, Swansea, will discuss how to attract and care for colonies of purple martins, a migratory swallow species that is totally dependent on human-provided housing. Meet at the large rack of nesting gourds on the parking lot, just south of the Visitor's Center. The rack, which is fully occupied by martins, will be lowered to show to active nests.