Join the Cahokia Mounds Museum Society.  Purchase your membership online.
The Museum Society provides vital support to the Cahokia Mounds Historic Site which has been designated as a World Heritage Site by the United Nations Educational, Scientific and Cultural Organization.
Join CMMS
Join CMMS
The Museum Society provides vital support to the Cahokia Mounds Historic Site which has been designated as a World Heritage Site by the United Nations Educational, Scientific and Cultural Organization.
Your support ensures that the Museum Society is able to continue such unique endeavors as:
Protecting the Site
Our Land Acquisition Program reacquires portions of this prehistoric city, protecting the land from being destroyed by urban development.
Educating the Public
The Site serves as many as 350,000 visitors yearly from all fifty states and over eighty foreign countries. Here are just a few of our free programs:
Kids Day: This event features numerous hands-on activities, crafts, games and Indian dancing to teach today's youth of the culture that existed here over 1,000 years ago.
Lecture Series: From January through April CMMS hosts a different lecturer each month to teach of Native Americans and archaeology.
Nature/Culture Hikes: Offered in the Spring and Fall by a staff archaeologist and a botanical specialist.
Equinox & Solstice Sunrises: Observed at the reconstructed Woodhenge, with an explanation of the discovery and function of the ancient calendar.
Supporting the Arts
The site offers a venue for Native American artists from across the country to display and sell their artwork and crafts and to teach visitors about traditional and contemporary processes.
Indian Market Days: Each year CMMS hosts two Indian Market Days, one in the Spring, and one in the Fall, which offers a unique holiday shopping experience over Thanksgiving Weekend.
Please join us today in protecting and preserving Cahokia Mounds.
Your gift makes a meaningful difference.
Museum Society
Cahokia Mounds Museum Society
The Cahokia Mounds Museum Society is a not-for-profit organization founded in 1976 to support the Cahokia State Historic Site. Our mission is to promote for the public benefit the educational and scientific aspects of the Cahokia Mounds State Historic Site and associated archaeological sphere, and to support activities that are calculated to preserve, develop or interpret Cahokia Mounds.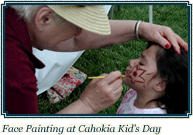 Since 1976, CMMS has provided support by reacquiring and protecting portions of this prehistoric city, conducting archaeological research, educating the public with programs such as Kids Day, lecture series, nature/culture hikes, equinox and solstice sunrise observances, and supporting the arts through Indian Market Days and Performing Arts Series.
Programs sponsored by the Society consistently attract thousands of new visitors each year because themes and activities are geared toward audiences ranging in age from pre-school to elderly. A firm focus on school and family programs provides a cyclical benefit, as children from school groups encourage parents to visit and vice versa.
One current goal of the CMMS is to pursue land acquisition throughout the area to ultimately protect and preserve more of this State Historic and World Heritage site and to showcase the original acreage of this ancient city. Some of this land is home to vacant buildings and lots and/or is held by landowners that are unable or unwilling to maintain them. Once CMMS purchases property, it is placed under the protection of the Illinois Historic Preservation Agency.
Other goals of CMMS include increasing attendance to the site, reaching out to new audiences, and increasing public awareness. Notable CMMS achievements include publishing the award-winning book, Cahokia – City of the Sun and the six-time award-winning video,Cahokia Mounds – Ancient Metropolis.
The Society is currently involved in a special effort to acquire mounds from private owners and expand the site boundaries by reclaiming significant archaeological property from subdivisions adjacent to the site.
Thank you for your support of this World Heritage Site. Contact us at 618-344-7316 with questions.
Member Benefits
Become a member today and start enjoying these special benefits:
Student/ Senior (55+) $30
Individual $40
Family $50
Contributor $100
Donor $500
Patron $1000
Corporate $10000+
The Cahokian
Newsletter
yes
yes
yes
yes
yes
yes
Travel Opportunities
yes
yes
yes
yes
yes
yes
Insider information
about what's happening
at Cahokia Mounds
included
included
included
included
included
included
Book Catalog upon
request
included
included
included
included
included
included
10% Discount on all
classes
included
included
included
included
included
included
Invitations on Special
Member Events
included
included
included
included
included
included
Additional one-time
10% discount on
purchase in the Museum Shop
included
included
included
included
included
Book: "Cahokia: City of
the Sun" ($9.95)*
included
included
included
included
Video: "Cahokia Mounds: Ancient Metropolis" ($21.95)*
included
included
included
included
Professional
archaeological tour of
the Interpretive Center
and Site for group of five
included
Professional
archaeological tour of
the Interpretive Center
and Site for group of ten
included
included
Sharing in the
preservation of this
World Heritage Site!
included
included
included
included
included
included
* The amount of membership that is tax deductible is limited to the excess of any money contributed over the value of goods provided to and received by the donor. Premiums must be picked up in the Museum Shop. If you do not accept the premium offered, the membership is tax deductible to the extent of the law.
Mound Builder Awards
Mound Builder Awards
The Cahokia Mound Builder award is presented to individual(s) or organization(s) that have made a major impact in the preservation, development of interpretation of Cahokia Mounds and its surrounding archaeological sphere. Below is a list of previous Mound Builder award winners.
2013
Jim Mertz
2012
Bob LaSurs
2011
Dean and Nancy Graves (Years of support of CMSHS)
Schwartz and Associates Creative, Inc. (Dedication to the interpretation of CMSHS)
William Iseminger (Many years dedicated to the operation, interpretation, and research of CMSHS)
2010
Margaret Brown (Many years of service and contributions)
Tourism Bureau, Southwestern Illinois (Support and contributions)
Dr. John Kelly (Many years of dedication to research and interpretation)
Larry Kinsella (Years of dedication to the support of Cahokia Mounds)
2009
Doris Marti (Volunteer, CMMS board and past president)
IL Representative Thomas Holbrook (For supporting and championing Cahokia Mounds)
Lee and Lila Vick (Volunteers, speaker's bureau, Lila CMMS board and past president, CAS board (Lee vice-president), Cahokia representatives for St.Louis Docents organization, etc.)
2008
Boeing Employees Community Fund (For donating funds for land acquisition)
2007
TOKY Branding + Design (Eric and Mary Thoelke) (Design and development of new website)
Open Space Council of St. Louis (Donating funds for demolition of Grandpas annex)
Art Grossmann (Photographer of Cahokia and exhibits, postcards, etc.)
Archaeological Conservancy (Acquiring land part of greater Cahokia site – Fingerhut, Powell, E. St. Louis, etc.)
2006
Albert Meyer (posthumous) (Excavator, illustrator, artist, CMMS Board, volunteer, CAS member and past president)
2005
Rick Jones (Donating demolition services for acquired house lots)
Paul and Mary Chucalo (Donating Chucalo Mound to site)
2004
Senator Evelyn Bowles (Grants for land acquisition)
Barbara Thoelke (CMMS board, coordinating land acquisitions in State Park Place)
Leo Konzen (Attorney, assisting with land acquisition legal work)
No Awards from 1996-2003
1995
State Park Volunteer Fire Department (Chief Terry Guffy, assistance with fires on site)
Robert Luken (Arranging for Mesoamerican exhibit exchanges)
1994
Nellamae and Myles Lowis (Gift shop, display fabrication and assistance)
George Stephenson (Donating air flights for photography)
Egyptian Radio Club (communications at special events)
1993
Lucille Stehman (CMMS board and founder, first gift shop manager)
Madison County Transit (Donation of shuttle bus service)
Richard Norrish (Editor of Cahokian)
1992
Leonard Blake (Ethnobotanist, avocational archaeologist, Cahokia enthusiast)
1991
Ettus Hiatt (Cahokia Mounds Museum Society, past president)
Evelyn Voelker (American Indian Center of St. Louis)
David Huntley (SIUE Museums director)
Collinsville Kiwanis Club (Donation/construction of picnic shelter)
Ramon's Eldorado Restaurant (Mecca for archaeologists)
1990
Contract Archaeology Program (SIUE, Bill Woods, excavations of museum site)
Gerard Hilferty & Paul Stromdahl, Hilferty & Associates (exhibit designers)
Design Craftsmen, Inc. (Chauncey Meritt, exhibit fabrication & installation)
Beverly Moseley (Beverly Moseley & Associates, dioramas)
Donna Lawrence (Donna Lawrence Productions, audiovisuals)
Cindy Reed (Hilferty & Associates, exhibit text writer)
Tom Kramer (Capital Development Board, museum project manager)
Jim Allen (Illinois Historic Preservation Agency, agency coordinator for exhibits)
Norman Kutterer (Cahokia Mounds Museum Society, acting director)
1989
Chuck and Cal Morris (Architectural Associates, Inc [AAI], museum architect)
Robert Koepke (Cahokia Advisory Board chairman)
Roscoe "Buck" Eastridge (Capital Development Board, project chairman)
Frank Illingsworth & Bill Ferris (Booker Associates, museum project managers)
Ralph and Gary Korte (Korte Construction Co., construction of museum)
Miranda Mathews (Donation for interior bronze doors)
David Oates and Sid LeGrand (Oates & Associates, landscape architect)
1988
Frank Acardi (Director of Kahok Dancers)
Eugene Kramer (State Police District 11, radios for vehicles, etc.)
Harold Mohrman (CMMS board, avocational archaeologist)
Capt. Bobby Henry (State Police)
1987
Joe Webb (Former site manager)
Clyde Sweitzer (Private contractor, worked with archaeologists)
Diane Jeter (SIUE, slide show project)
Robert Goodrich & Judith Newmark (St. Louis Post Dispatch, coverage of site and events)
Collinsville Chamber of Commerce, Rick Murray, President (Support for site programs)
1986
George and Mildred Arnold (SIUE, donation for Woodhenge reconstruction)
Senator Sam Vadalabene (Supporting site and funding for new museum)
Judy Taplin (Collinsville Herald, coverage of Cahokia and events)
Walter Milton (Pepsi Cola Alton Bottling, sponsorship assistance for special events)
Ron Presson (Southern Illinois Tourism & Convention Center)
Donate To Land Acquisition Fund
Donate To Land Acquisition Fund
There are currently 1,600 acres of land within the National Historic Landmark (NHL) Boundary of Cahokia Mounds that are not protected by the Illinois Historic Preservation Agency. This land contains archaeological evidence of the ancient Mississippian culture that once lived here and is susceptible to commercial development, bulldozing and the loss of important cultural heritage.
Since 2000 the Cahokia Mounds Museum Society has been purchasing land from willing sellers at a fair price. Once reclaimed, the land is donated to the Illinois Historic Preservation Agency, which has agreed to protect and maintain this property in perpetuity. Our goal is to return the NHL boundary to green space — reminiscent of how it was 1,000 years ago when occupied by 10-20 thousand Mississippian people.
We are asking for individuals and organizations to help us Reclaim Cahokia by making a charitable contribution. Your investment in CMMS will help ensure that the more than 300,000 men, women, and children that come to Cahokia Mounds each year, as well as future generations, will have access to an expanded site and a deeper understanding of those who lived at Cahokia Mounds. Your donation is tax deductible through our 501 (c) 3 corporation, the Cahokia Mounds Museum Society.
How others have helped:
The Archaeological Conservancy: emergency acquisition of the Powell Mound Tract and Fingerhut Tract
Boeing Employees Community Fund: has donated more than $20,000 to the Reclaiming Cahokia Fund
Gary Stark, Stark Homes, Inc.: $62,500 to the Reclaiming Cahokia Fund
Illinois First Grant initiated by Senator (retired) Evelyn Bowles: $250,000 grant which allowed the purchase of 21 lots
Rick Jones: donation of demolition work
Leo Konzen: years of pro bono legal services
Marvin and Susan Webb: donated their property to the Reclaiming Cahokia Program
The Open Space Council St. Louis: $25,000 for demolition of a warehouse that sits on the site
Paul and Mary Chucalo: donated their personal property that features the Chucalo Mound
Numerous other generous donors
Any of the following gifting opportunities will help CMMS attain its goal of reclaiming unprotected land within the National Historic Landmark Boundary of Cahokia Mounds:
Cash Donations
Most gifts to the Cahokia Mounds Museum Society are in the form of a cash or check payment. Please make checks payable to CMMS. Checks can be mailed to 30 Ramey Dr. Collinsville IL 62234. Your donations are tax deductible. All donations will be recognized in the Museum Society's quarterly newsletter, Cahokian and on our websitecahokiamounds.com. Any donor above $500 will be have the opportunity to bring a group of up to ten to have lunch and tour the site and interpretive center with a professional archaeologist.
Donated Services
Gifts of donated services are extremely valuable to CMMS. Once property is bought by CMMS, all structures must be removed before being placed under the protection of the Illinois Historic Preservation Agency. Therefore, demolition work is currently a premier Cahokia Mounds need.
Gifts of Appreciated Property
With careful planning, charitable gifts of long term appreciated securities or real estate can create very favorable tax benefits for you – such as the elimination of paying long-term capital gains tax or receiving an income tax charitable contribution.
Bequests
Gifts through wills and bequests can provide you with the opportunity to honor and sustain your family name at Cahokia Mounds. In 2005 the Leona Franklin Estate endowed the William Iseminger Intern Fund, assuring the quality learning experiences for college students in perpetuity.
Life Income/Charitable Trusts
Charitable trusts offer an opportunity to make a substantial gift to CMMS without forfeiting the annual income produced by these assets. You will retain income for your life and the life of your spouse. This gift can also be structured to create a substantial tax break over a period of years.
Planned Giving
Planned Giving
Planned giving enables you to give gifts of assets that benefit your family now and in the future. These gifts also ensure the stability of Cahokia Mounds for future generations. Below are some of the most common ways to legacy of support that will secure the Museum Society's success for generations to come.
Gifts of Securities
Stock that has increased in value is one of the most popular assets used for charitable giving, once it has been held for a minimum of a year. Making a gift of securities to us offers you the chance to help our organization while realizing many important benefits for yourself.
Gifts of Retirement Plan Assets
If you're like many Americans, your financial future will likely revolve around your retirement plan assets. To maximize the value of a retirement account, consider making a lifetime gift of its after-tax values to a tax-exempt deferred giving plan.
Gifts of Savings Bonds
Savings bonds represent major assets that may have stopped growing and are now collecting dust, just waiting to be put to use. A tax-wise use for your appreciated savings bonds is to support a cause you care about.
Gifts of Real Estate
Using real estate, such as your house, farm or commercial property, to fund a gift allows you to preserve your cash assets, receive significant tax and income advantages, and make a larger charitable gift than anticipated.
Gifts of Closely Held Stock
A donation of your closely held stock can be a fine way for you to make a sizable charitable contribution while realizing valuable tax benefits.
Gifts of Life Insurance
Donating your life insurance could be a wonderful way to fulfill your desire to support our work. By making the Museum Society the beneficiary of an existing policy, you make good use of your resources and expand your ability to make a significant gift.
If you have remembered CMMS in your estate plans, we encourage you to notify us by filling out and returning the Bequest Allocation form. Giving through your Will – How to steps. For more information, please call CMMS at (618) 344-7316.
This information is provided as an educational service.
Personal advisors should always be consulted in the planning process.