To make your visit as meaningful as possible we ask that all groups make a reservation two weeks in advance.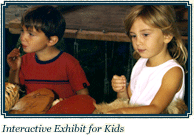 Orientation Theater and Exhibit Gallery
The orientation show City of the Sun is shown each hour and on the half hour from 10:00 a.m. to 4:00 p.m. There is no admission fee, but a suggested donation is $4.00 for adults, $2.00 for children, and $10.00 for families.
Please Note: Groups which are not scheduled in advance will have to wait until there is an opening to accommodate them in the Theater and Exhibit Gallery.
Field Trips and Group Visits
To schedule a group visit or field trip download the Group Reservation Form, complete and fax to (618) 257-3403 or mail to:
Tourism Bureau ILLINOISouth
4387 N. Illinois Street, Suite 200
Swansea, IL 62226
(618) 257-3441
When completing Group Reservation forms, please include preferred and alternative dates and times for a visit. Request will be checked against the schedule and a confirmation sent within one week.