Have you visited Cahokia Mounds and discovered that you are attracted to the mystery and majesty of this place? If so, CMMS offers the unique opportunity for volunteers to assisted archaeologists with archaeological research each summer and assist year-round in the lab with washing, labeling, packaging, and inventorying archaeological artifact collections.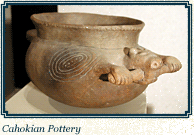 Those wishing to volunteer to help with archaeological investigations must be at least 18 years of age and willing to work under close supervision.
To participate directly in field work you must certify yourself to be in good physical condition and willing to work under challenging weather conditions. In addition, you must be a member or join the Cahokia Mounds Museum Society (memberships start at $25 for students and $30 for seniors.
While we can accept volunteers to assist with lab work throughout much of the year, opportunities to participate directly in field excavations are generally limited to the period from June through August.
How can I join?
Download the application and mail to:

Susanna Bailey
Volunteer Coordinator
P.O. Box 401
Hazelwood, MO 63042